Long Lake Ranches Real Estate
Long Lake Ranches Homes for Sale | Davie FL Luxury Gated Homes
Long Lake Ranches Community Video
Long Lake Ranches Homes for Sale. If you're considering relocating to South Florida and you are looking for a gated community with acreage and large home square footage, well Long Lake Ranches in Davie, Florida should be on your list of communities to see.
Long Lake Ranches is located between Nob Hill Road and Hiatus Road; Long Lake Ranches West is Located on Hiatus Road, South of I-595 and North of Griffin Road. They both boast grand gated entrances, which are befitting of the homes that they host. There is a Club House with a gym, a tennis court, a basketball court and a bike trail. Long Lake Ranches West also features a community swimming pool. Long Lake Ranches is an equestrian community.
Long Lake Ranches was developed by G.L. Homes and was built in three Phases with Long Lake Ranches West as the final phase. Construction on the final homes was completed late 2007. There are 6 models to choose from: The Sonoma, The Renoir, The Van Gogh, The Raphael, The Caliterra, and The Renoir Majestic. Contact us for floor plans and to view homes for sale in Long Lake Ranches and Long Lake Ranches West Davie.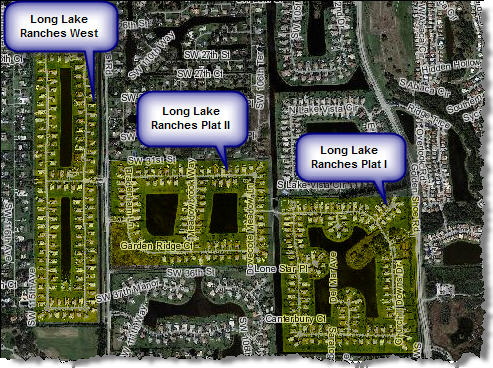 View Waterfront Homes for Sale in Long Lake Ranches as well as Dry-Lot Long Lake Ranches Properties for Sale.  For a customized list of Long Lake Ranches properties for sale, contact me by completing the form below.
Long Lake Ranches Homes for Sale
…

…
Long Lake Ranches Public School Zone Information:
Elementary:  Fox Trail Elementary
Middle: Indian Ridge Middle
High: Western High
(School assignments are for informational purposes only. Zone Changes are likely to occur; check with Broward County Public Schools to verify school zone assignments)
Broward County Public School Information
Visit my blog to view Long Lake Ranches Real Estate Market Updates.
Contact us if you are considering placing your Long Lake Ranches home on the market for Sale and for more information on how we can market your home for sale or if you are looking to purchase a home in Long Lake Ranches in Davie FL.